We all know that Pixel Art is a digital art concept related to technology and screens, but what if we bring it to reality? What if we turn each pixel into a tessera? The result is, undoubtedly, surprising. Pixel Art with glass mosaic offers a wide range of possibilities. It transforms its exclusively virtual use into as a versatile element for space design.
Thanks to the Pixel Art glass mosaic technique, designers now have a powerful technology that offers total top quality floors and coatings customization.
With the pixel technique it is possible to create atmospheres and sets of all types such as logos, geometries, patterns, drawings, gradients… Everything you can imagine.
Why use glass mosaic as a material for Pixel Art?
Pixel Art technology turns each pixel into a tessera. Therefore, any image can be transformed into a mosaic.
Its biggest advantage? The possibility of mixing multiple finishes and mosaic textures: smooth, metallic, luminescent… Endless possibilities to achieve a fantastic result with the maximum possible customization.
It is also resistant to the impact of sunlight and water, so the colour of the mosaic will not be altered over time. A perfect material for outdoor spaces, swimming pools or indoors.
Forget about standard spaces and turn your custom design into reality. Make a difference thanks to the Pixel Art technique with glass mosaic. Do you want to see the result? See some of our projects.
Which of our Pixel Art projects do you like the most?
Facade of Universidad Politécnica de Valencia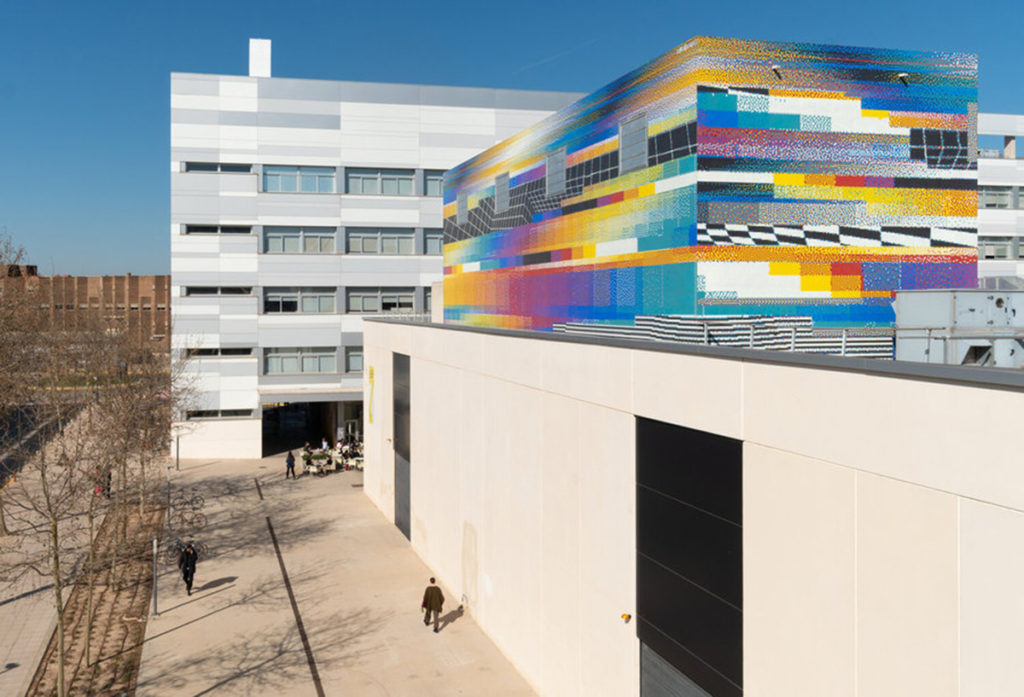 This striking project by artist Felipe Pantone takes the technique of pixel art in glass mosaic to the highest level. A design with more than 500,000 mosaic chips in only 6 colours. The contrast with one another can deceive the human eye, interpreting a great chromatic richness and geometric forms.
Also, the luminescent effect of the white colour when shining in the dark, creates a surprising optical effect at night.
JW Marriot Resort in Maldives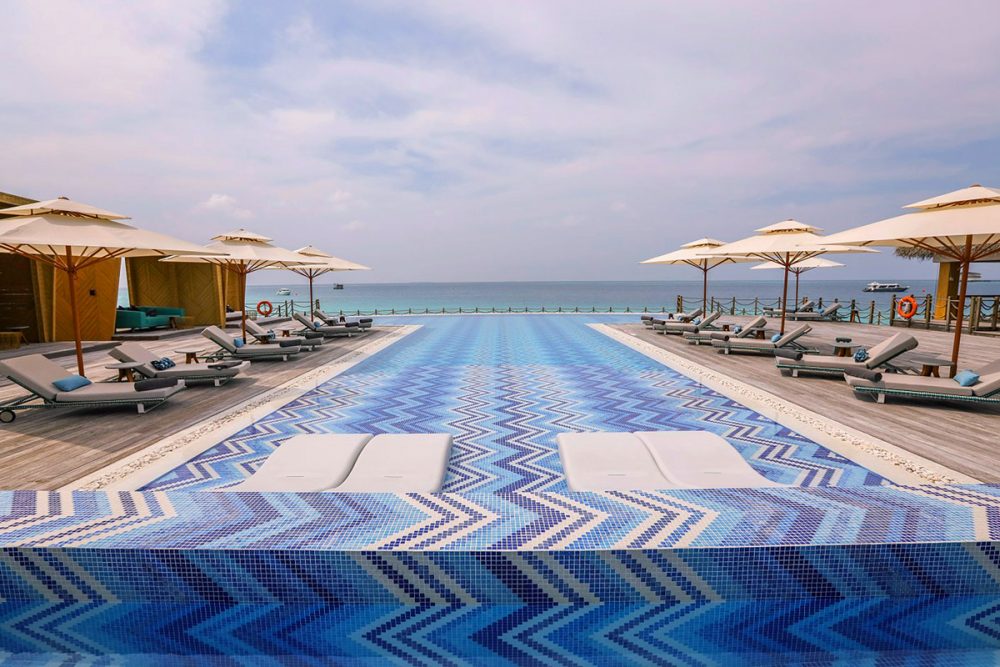 The beautiful geometric design of the JW Marriot Resort pool is created with a combination of blue tones from the Nieve Collection mosaic for pools. This custom design makes this unique pool original and distinctive.
This time the pixel art mosaic technique has turned the more traditional pool gresite into a different and appealing design.
Kenitra Residential in Morocco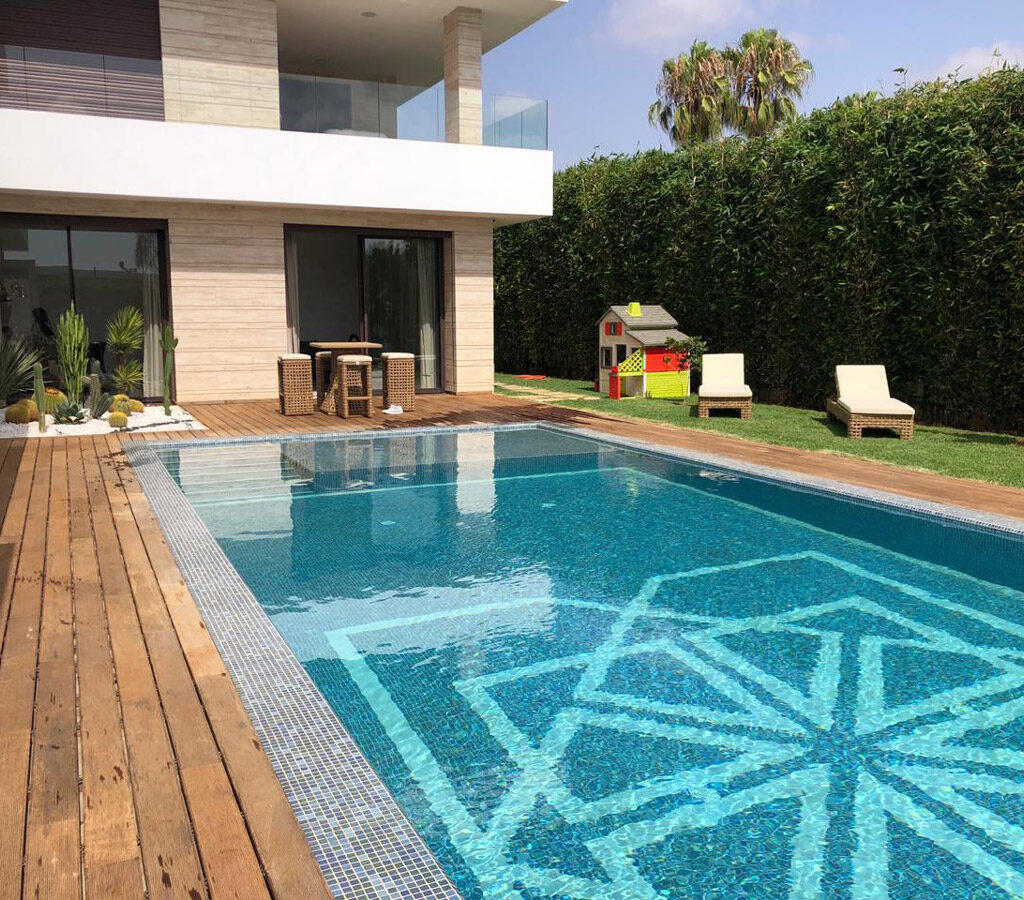 The bottom of the swimming pool of Kenitra Residential has a luminous geometric design thanks to the pixel technique.
The combination of mosaics in Opalo finish selected for this project creates a play of colours by reflecting the light on the tesserae that highlights the drawing achieved thanks to the pixel art technique.
Boas Residential Complex in Ibiza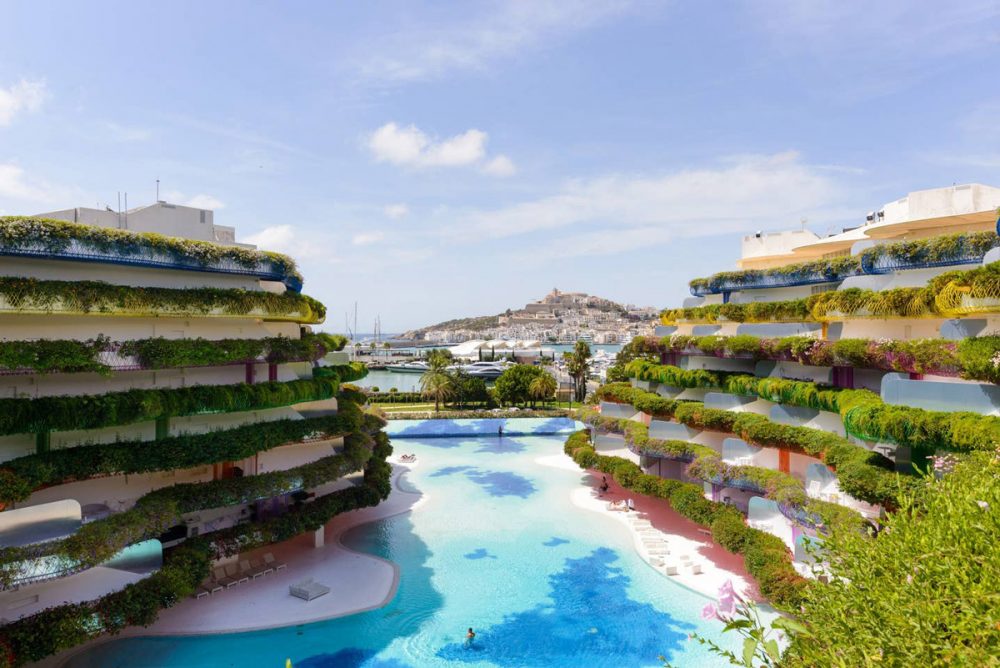 A set that manages to recreate the depths of the sea bed. The designer Jean Nouvel achieves this effect by combining the tesserae of the basic ONIX Nieve and Lisa mosaic collections in gloss finish with the Pixel Art technique.
Any design you can imagine is possible thanks to Pixel Art in glass mosaic!