People often believe that to achieve a truly exclusive touch one must resort to complex solutions. Fortunately, however, there are very simple alternatives; one of them is "reflection".
Reflection and Iridescent Mosaics
A distinctive feature of the iridescent finish is that it generates different chromatic effects depending on the viewing angle and the way in which light falls on and reflects off its tiles, offering a range of color that captivates the eye.
This article is our way of presenting some examples of how mosaics with an iridescent finish may be applied in various parts of the home (swimming pool, spa, bathroom walls, etc.). Our aim is to provide you with a starting point, so that you can give free rein to your imagination and consider this type of finish for your next decoration projects.
Iridescent Mosaics in Pools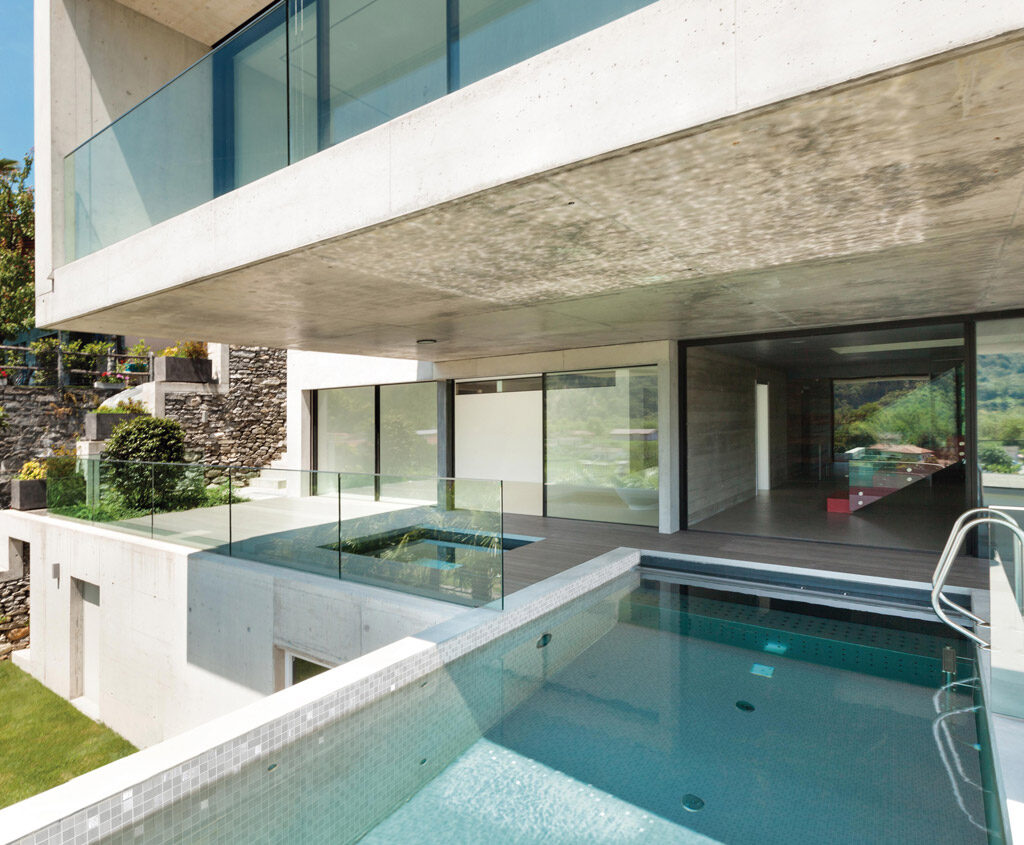 This swimming pool, tiled with our Polar glass mosaic from the Iridescent Colour Blends series, creates a most elegant atmosphere by combining tiles that feature gloss and opal effect finishes with silver sparkles.
If, in addition to opting for iridescent or opal effect mosaics for your pool, you include some type of decoration, such as this one created using the pixel art technique, you are sure to have a pool that brims with personality: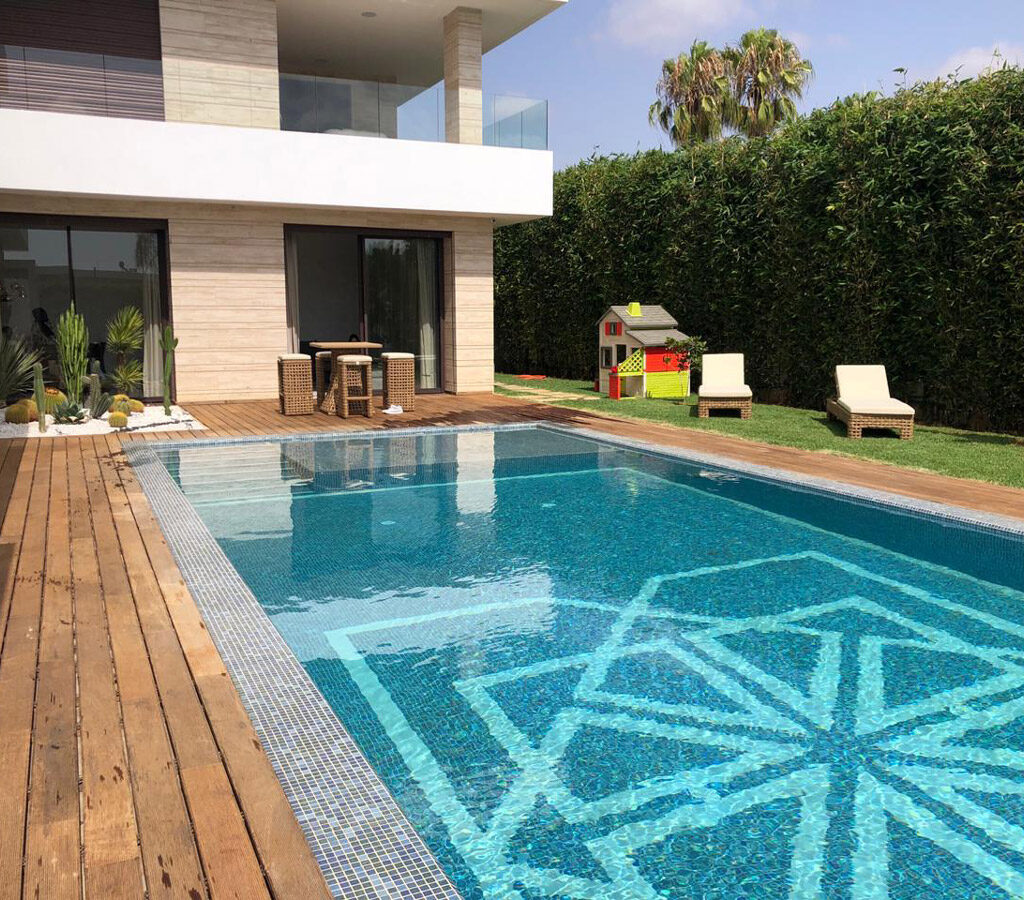 This pool, located in Morocco, was tiled using Opalo Iridescent Blue and Opalo Blanco mosaics.
In addition to a beautiful finish, this glass mosaic is highly resistant, an important factor to consider when selecting material to tile your pool. This product does not scratch, is highly resistant to chemical agents and temperature changes, and will remain unchanged over time.
Iridescent Mosaics in Kitchens and Bathrooms
As we mentioned earlier in this article, this type of finish is interesting not only for its application in swimming pools; in fact, there is growing demand for its use in decorating the bathroom and kitchen.
If you are tired of square tiles, at ONIX you will also find iridescent mosaics in Penny format, 19mm in diameter: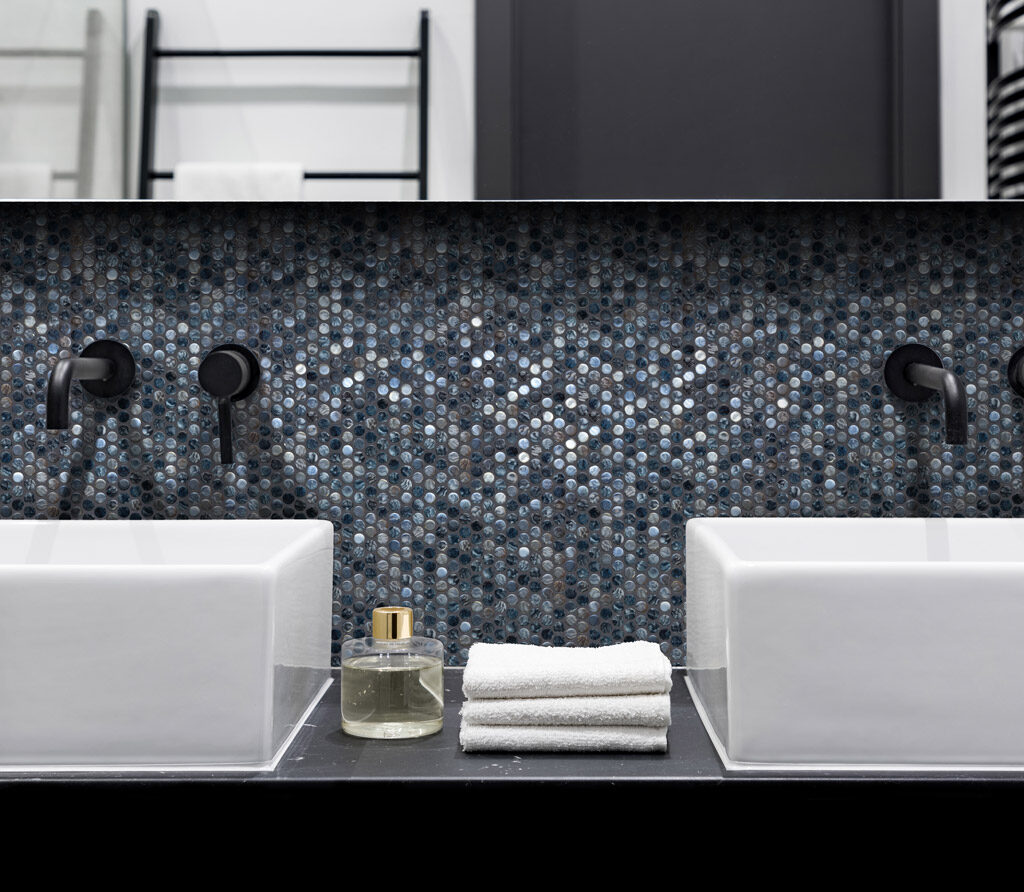 This image gives us a fine example of sophistication; the circular format offers an elegant and modern look that, along with the iridescent finish of its tiles, draws attention first and foremost to the wall while also accentuating the bathroom furniture and fixtures.
If, on the other hand, you prefer the square format, we also manufacture the mosaic in the previous image in "Square" (25x25mm):
Compared to other materials, glass mosaic is widely used in kitchens, especially for the backsplash area, not only because of its captivating aesthetics, but also because of its special properties; among them, the null absorption of water, its ease of cleaning and because it is a completely hygienic and anti-allergenic material.
Iridescent Mosaics in Spas
Among the many hotels that have selected this type of finish for their facilities, one example is the Southampton Harbour Hotel & Spa (UK) , who opted for Opalo Blanco y Opalo Iridiscent Blue mosaics in order to tile and decorate their pool and spa area. The tones and finishes of these mosaics promote the total sensation of comfort and well-being among its guests: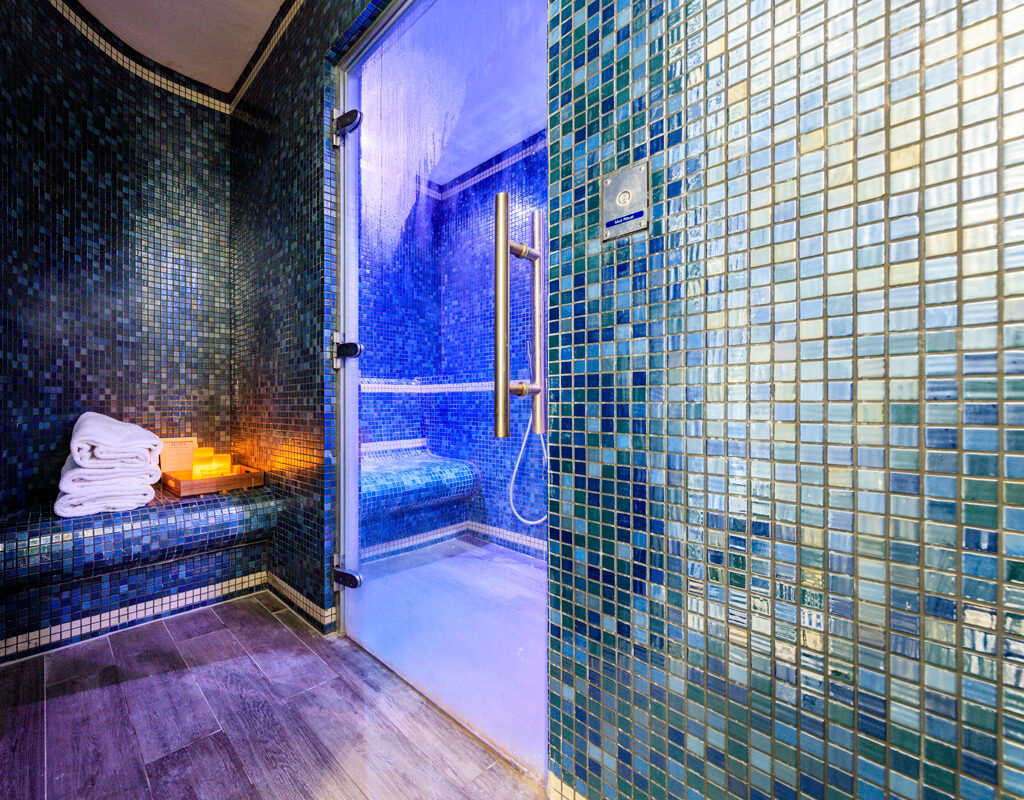 Iridescent Mosaics for Indoor and Outdoor Walls
So far we have presented examples of this type of finish as applied to the decoration of swimming pools and areas in regular contact with water. However, its application goes much further.
As a result of the pandemic, we have spent a lot of time at home, and we have had plenty of time to familiarize ourselves with all the rooms in our homes. With iridescent mosaics we can do without complex renovations and embellish any room by enhancing the play of light in spaces both dark and bright in the home, such as in this hall: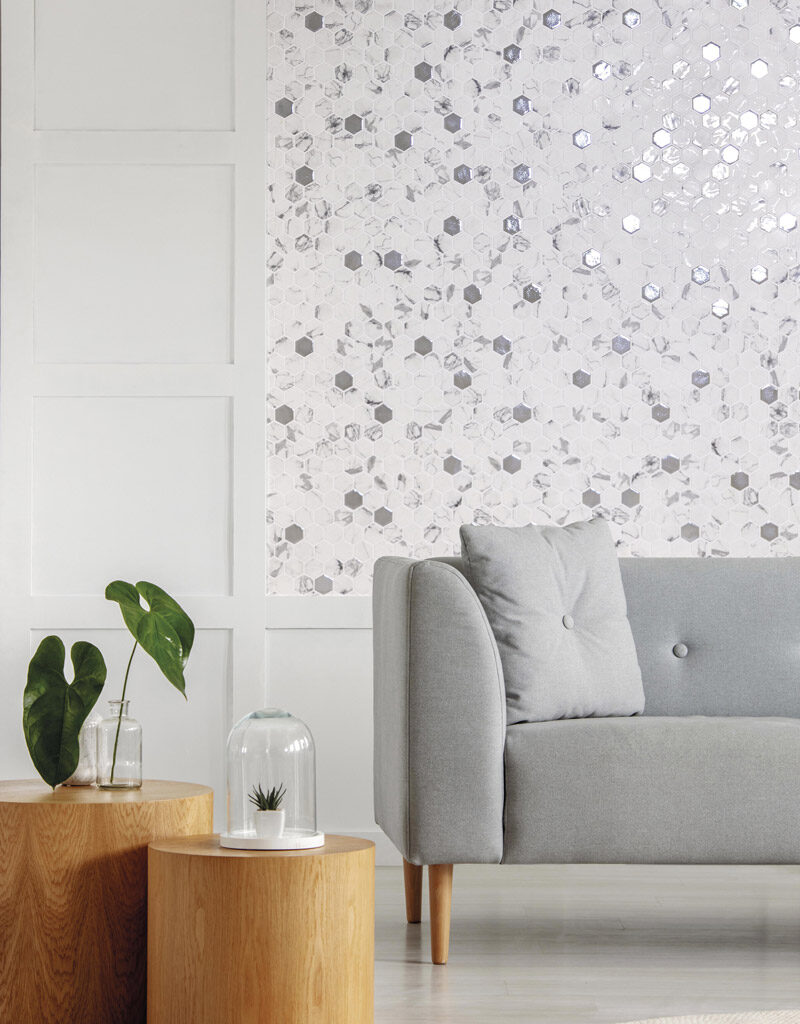 Now, imagine decorating the bedroom walls with a circular mosaic in dark tones. You might think that dark tones would make the room appear smaller and darker, etc. But have a look at the image below: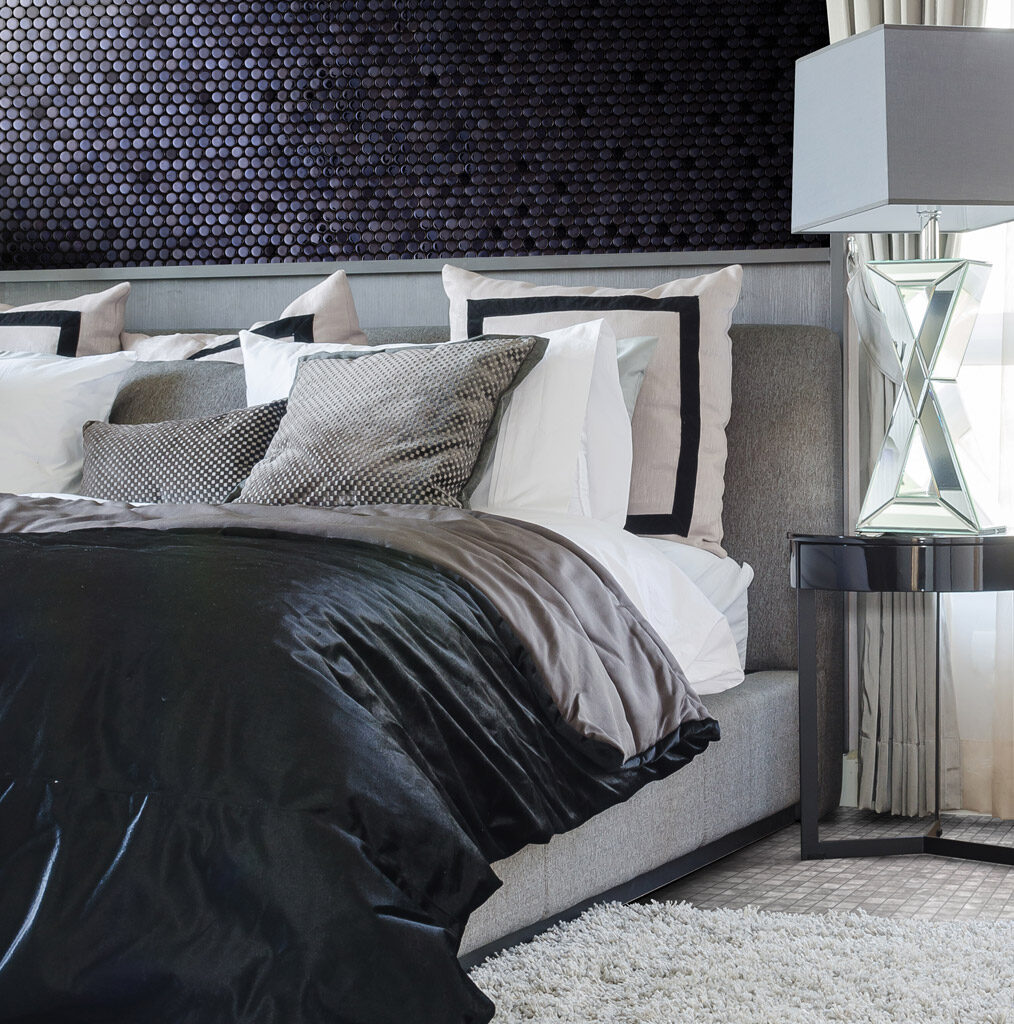 As you can see, wonderful, unexpected results can be achieved. The Penny Opalo Black mosaic, thanks to its original format, black color and glossy finish, reflects the light that falls upon it and transforms it into shine, resulting in a bedroom replete with personality and style.
Discover inspiration in iridescent mosaics