This is the ultimate question in pool design. The first step is to decide the effect you want your pool to have and, therefore, the colour of the water. Once decided, which pool coating will achieve that effect?
As you already know, water is colourless and you can change the colour you perceive by playing with the colour of the pool tiles. But there are more factors to consider.
Besides the colour of the mosaic for swimming pools, other factors that also modify the appearance of the water are the depth of the pool (the deeper the water, the darker it is) and the light it receives (the more sunlight, the brighter the colours).
Taking into account the above, what colour of pool mosaic should you choose to make your design a success?
Mosaic for water in blue shades
White mosaic for a light blue pool water
White or very light-coloured pool tiles are perfect for pools with sky-blue water shades. This shade of blue will add luminosity, serenity and relaxation to your pool.
Which ONIX mosaic will achieve this effect?
Blue mosaic for a deep blue pool water
A classic! Blue mosaic adds a deep blue colour to your pool water. This pool coating gives a refreshingly appealing look in the hottest months.
Which Onix mosaic will achieve this deep blue colour?
Black mosaic for a dark blue pool water
For a seawater effect in dark blue shades, chose black and very dark tones mosaic. It will also add a touch of sophistication and design to your pool.
Some examples from our catalogue with which to achieve a dark blue colour for your pool are the mosaic references: Arrecife Blue, Nieve 25260, Sena; and the black pool tiles references: Nieve 25150, Opalo Negro, Arrecife Iridis Grey.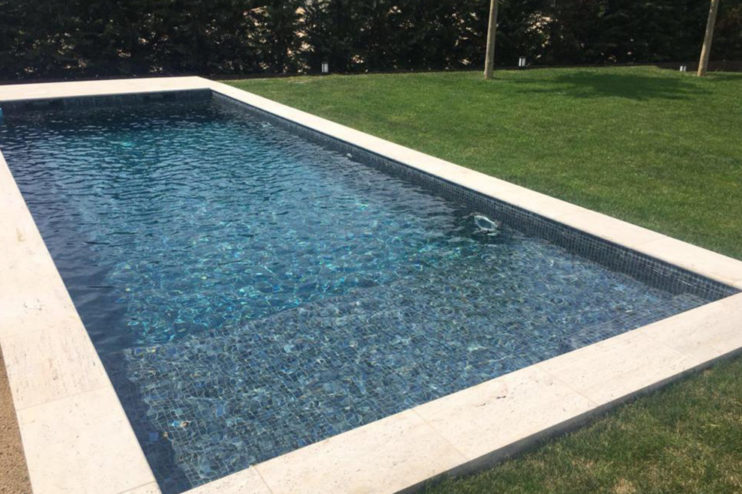 Grey and beige mosaic for a turquoise blue pool water
For a paradisiacal atmosphere there is nothing better than a turquoise colour for your pool water. Beige or light grey coating is the best option to achieve this effect.
Which ONIX pool mosaic will achieve this turquoise colour?
Mosaic for crystalline water
Mosaic in dark shades for a transparent water
Dark, grey, brown and stone-style pool mosaic is perfect for achieving this crystal-clear water effect reminiscent of high mountain rivers. Totally transparent!
The most used ONIX pool tiles to achieve this effect are New Slate, New Basalt, Nordic Stone y Black Scandinavian.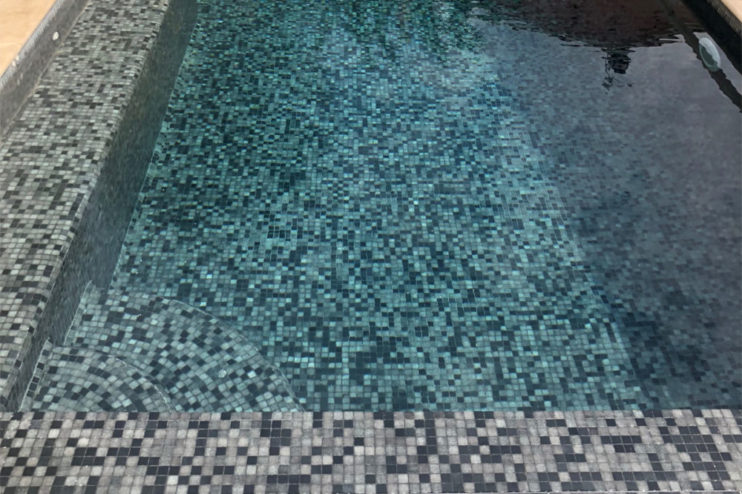 Mosaic for Emerald Green Water
Exotic water effect with green mosaic
Green mosaic is the perfect option if you want an exotic pool water colour effect. An emerald green that will add personality and a wild look to the pool.
Which ONIX pool mosaic will achieve this emerald colour?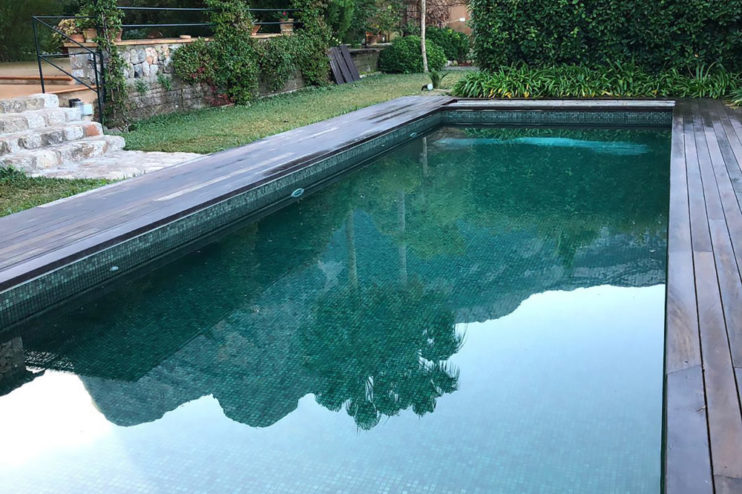 Mosaic for glowing water in the dark
Starry sky effect with luminescent mosaic
The luminescent pool mosaic creates a magical night time atmosphere. An effect reminiscent of the starry night sky with which your pool will take on special prominence.
You will achieve this glowing water in the dark effect with our Opalite Blanco Luminiscent and Piscis Luminiscent mosaic references.